IDS Nepal is comprised of a diverse array of scholars, energetic professionals, and experts from the field – all focused on strengthening the capacity of the organization. IDS Nepal currently employs 160 staff, 55 of which are female. There are, additionally, more than 50 resource persons who contribute in its headquarters and district offices as consultants in their respective fields of expertise.
The organization is governed by a General Assembly of 43 members, which is then operationally regulated by the Executive Board. The General Assembly is held each year as per the constitution of the organization.
IDS Nepal has a unique organizational structure in that each Project has a designated Management Team who possesses the autonomy to make all decisions associated with said project. The decentralized nature of IDS Nepal's organizational structure ensures quicker decision-making and encourages a bottom-up approach. Meanwhile, the various Management Teams are still supported and operationally regulated by the Executive Board so as to ensure efficiency and coordination.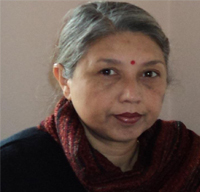 Ms. Prabha Pokhrel
Founder Chairperson Sociologist; M.A, TU
Prabha Pokhrel, a Social Development Practitioner, has been involved with IDS Nepal since its inception in 2000.Having worked extensively in different capacities for IDS – including, but not limited to, a founder, current chairperson, and resource expert – Ms. Pokhrel's experiences are wide-ranging. Her experiences in the infrastructure development sector vary from community-level social mobilization to formulation of gender policy at a national level as well as her current interest in differentiated impacts of climate change. This experience has enabled her familiarization with various modalities and approaches to development. Ms. Pokhrel's leadership role has led this organization to its current status.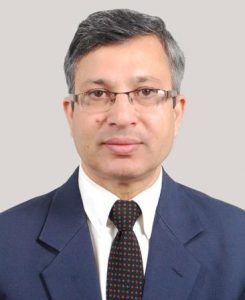 Dr. Rajendra P. Adhikari
Chairperson
Ph.D; PPP Expert
Dr. Adhikari has served in the Pulchowk Campus (Institute of Engineering) for about 18 years. He then associated with the Nepal Engineering College and is specially credited for starting and popularizing the M. Sc programs in Construction Management and Natural Resource Management and B.E Civil Engineering (Diploma Holders) program of Pokhara University. Similarly, he was the founder Principal of Nepal College of Information Technology (NCIT), a Pokhara University affiliated College. He also served as a member of engineering subject committee of Pokhara University and was the first chairperson of Organization of Pokhara University Education Institution Nepal (OPEN). Dr. Adhikari is also serving as Visiting Professor to leading universitites/colleges including Nepal Administrative Staff College (NASC)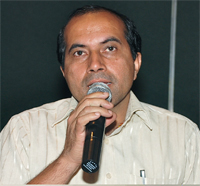 Mr. Prakash Koirala
Executive Director
MBA, TUInvolved with the organization since 2003, Prakash Koirala has been critical in the growth and progress of IDS Nepal as a leading NGO. Mr. Koirala's extensive experiences in management, coordination and project implementation in different sectors – both from the community and central levels – have led him to take on an executive role within the organization. In addition to overseeing daily operations within the head office, Mr. Koirala monitors all projects, which entails frequent visits to the field.
| S.No. | Name | Designation | Profession | Education |
| --- | --- | --- | --- | --- |
| 1 | Prof. Dr. Rajendra Adhikari | Chairperson | Professor/ Management Expert | Ph. D |
| 2 | Ms. Geeta Khadka | Vice-Chairperson | Agriculture Expert | MA; B.Sc Ag. TU |
| 3 | Mr. Shom Bd. Shrestha | General-Secretary | Finance | M.B.A, TU |
| 4 | Er. Giridhar Mishra | Treasurer | Civil Engineer | M.E, TU |
| 5 | Mr. Sushil B.K | Member | Advocacy | Master in Communication & Journalism P.U |
| 6 | Mr. Gopal Krishna Shrestha | Member | Governance Expert | MBA |
| 7 | Ms. Bijaya Shakya | Member | Finance | MBS |
| S.No. | Name | Designation | Profession | Education |
| --- | --- | --- | --- | --- |
| 1 | Dr. Dinesh C. Devkota | Advisor | Policy Expert | Ph. D |
| 2 | Dr. Madhav Karki | Advisor | Climate Change Adaptation and Forestry Management Expert | Ph, D |
| 3 | Prof. Dr. Madan Koirala | Advisor | Climate Change and Environment Expert/ Professor | Ph, D |
| 4 | Dr. Sarba Raj Khadka | Advisor | Agriculture, Climate Change, Natural Resource Management Expert | Ph, D |
| 5 | Ms. Kalpana Pradhan | Advisor | Socio-Economist/GESI | M.A., M.B.A |
Organizational Structure
The following figure shows our organizational structure, where the General Assembly holds a superior position, regulation IDS Nepal for better performance. Our organization is inclusive from both a gender and caste/ethnic perspective.